It seems like the scene out of a movie, but apparently, it's real life.
According to the Washington Post,
A door malfunction on an armored vehicle sent money flying along Interstate 270 on Friday morning.

The incident, which began about 8 a.m., initially was thought by officials to involve the crash of an armored vehicle that was headed northbound on I-270 near Route 80 in Urbana.

The driver of the vehicle, which was owned by Canada-based GardaWorld, was in the far left lane of the interstate when a lock on a door of the Ford E-350 van malfunctioned. A bag of cash fell out, sending bills flying.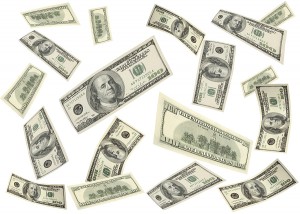 Drivers stopped, got out of their vehicles and started grabbing the cash, police said. So many vehicles stopped that they essentially shut down the northbound lanes of the road. No one was injured. When a fire official also stopped and turned on the emergency lights of his vehicle, drivers fled onto Route 80 with money, police said.
Something seems fishy. How do locks on armored trucks like this suddenly "malfunction?" And are you allowed to keep money that you find flying about? Do you have to declare it on your tax return?