I'm disappointed I missed this yesterday, because this is the real highlight of the weekend.
There was apparently some controversy at the MSHSL state dance championships. HIGH SCHOOL GIRLS. DANCING. DRAMA.
No, it wasn't the Rancho County Toros. (PS - There must be some clovers in the atmosphere)
IT WAS RIGHT IN OUR BACKYARD.
Per
Deadspin
(and yes, DEADSPIN IS REPORTING ON HIGH SCHOOL DANCE)
Officials disqualified five Minnesota high school dance teams after their symbolic protest at the state finals over a rival team's alleged plagiarized championship routine in what was basically the exact plot from the classic and very great high school cheerleading movie, Bring It On.
The allegation is that the drill team from Utah's Copper Hills High performed an incredible routine last year which Faribault then plagiarized and performed this year. One theory is that Faribault ripped it directly from Copper Hills after seeing it on YouTube; another is that Austin High School, another Minnesota squad, saw Copper Hills's routine on YouTube, stole bits of it, and then performed a new routine in a competition earlier this season. In that very competition, Faribault performed after Austin, and were so taken with it that they jacked Austin's routine—which, of course, wasn't completely theirs to begin with.
The MSHSL investigated. And they found that no tomfoolery or shenanigans had occurred.
After a review of the report from the school and a review of video and other information, there was complete consensus on the part of League staff and the Dance Team Rule Coordinators that a violation had not occurred.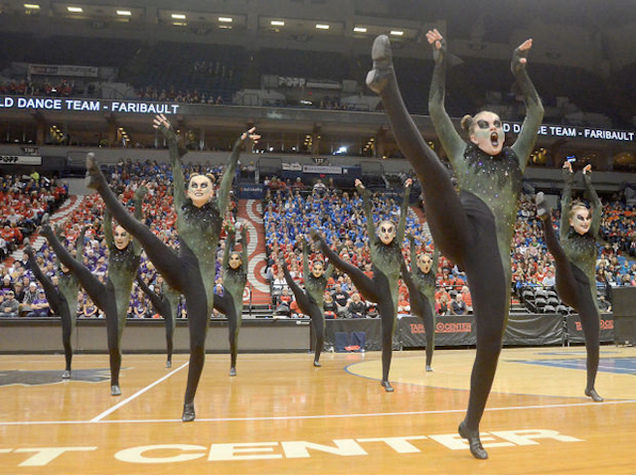 Their outfits and makeup is terrifying. I hope this isn't the last we've heard of this story.