Through the first few days of the Free Agent Frenzy, as it applies to the NFC North, a few things are clear: The Packers haven't gotten worse, while their stiffest competition, the Lions and Bears, certainly have. (Sorry Vikings. I like some things you guys are doing, but you're not there yet.)
Case in point: Green Bay was able to (agree to) re-sign Randall Cobb to a 4-year, $40 million dollar deal. That's pretty damn close to the 4-year, $39 million dollar deal that Jordy Nelson signed last summer. That makes them the 10th and 11th highest paid wideouts in the league, according to OverTheCap.com (http://overthecap.com/position/wide-receiver/). They're both locked up through 2019, at a good price. That's a win for the Packers.
And now Bryan Bulaga too! The off-season for the Packers is already a win. Cobb and Bulaga were their two biggest priorities, and they're bringing both back on deals that work within the salary cap. Huge.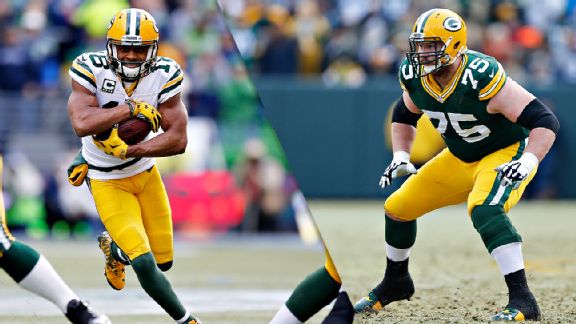 Via ESPN.com (http://a.espncdn.com/photo/2015/0224/nfl_g_packts_576x324.jpg)
Ndamukong Suh is set to sign a $114 million contract with the Miami Dolphins. That's a heck of a lot of money. He's a heck of a player, and is now gonna stomp on Tom Brady instead of Aaron Rodgers, but it unquestionably makes the Detroit Lions worse (well, certainly not better). Say what you will about his shenanigans on the field, but Suh is an All Pro defensive tackle.
The Chicago Bears have also agreed to trade wide receiver Brandon Marshall in exchange for a freaking fifth-round pick. The one thing that worried me as a Packers fan about playing the Bears was the duo of Marshall and Alshon Jeffrey. Now, that duo is no more. The Bears certainly aren't better, in my opinion, after the trade.
The Vikings got put in a tough spot after the whole Adrian Peterson situation, but they showed promise without him, led by Teddy Bridgewater. I think they'll be good enough soon, but just not yet.