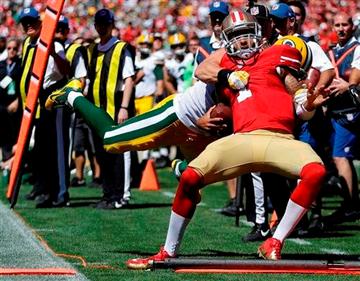 Photo from AP/CBS Atlanta
After personally attending the buttkicking that the 49ers laid on the Packers on Week 1 of last season and then attentively watching each and every play of the playoff lost last season, I have to admit I was sort of bracing for the worst. I'm not shocked by the Packers' 34-28 loss to San Francisco yesterday, but here are my quick reactions to each of the phases of the game.
PACKERS PASS OFFENSE
Aaron Rodgers was very good, but maybe not as great as GB fans are accustomed to. He completed "only" 56.7% of his passes, but still racked up well over 300 yards and 3 TD passes. Jordy Nelson and Randall Cobb were both great and Jermichael Finley was...ok. Unfortunately for the Packers, James Jones was non-existent.
PACKERS RUN OFFENSE
It's not the offensive line that Mike McCarthy wishes he could trot out there, but they did ok. It took a while to get going, but I thought that they provided Eddie Lacy with some good lanes to run through as the game progressed. Lacy finished with a rather pedestrian 14 carries for 41 yards and a costly fumble, but I think it's safe to say this portion of the team will be improved from last year to this.
PACKERS RUN DEFENSE
This was possibly the most impressive part of the Packers on Sunday. The 49ers have one of the best offensive lines in all of football, and BJ Raji, Ryan Pickett and Johnny Jolly did a great job, limiting them to 90 yards on 34 carries. They had Clay Matthews III spying on Colin Kaepernick for the majority of the play, and that helped turn this into one of the facets of the game that I'd say the Packers definitely won.
PACKERS PASS DEFENSE
The pass defense on the other hand...not so great. Too many holes in the coverage allowed the mobile Kaepernick to pick apart the defense to the tone of 400+, doing plenty of damage while he was on the run. Anquan Boldin was ridiculous, catching 13 balls for 208 yards. The one solace I can take from this aspect of the game is that the Packers were without two of their talent young players, S Morgan Burnett and CB Casey Hayward due to injury.
PACKERS SPECIAL TEAMS
Mason Crosby made all of his kicks. Tim Masthay punted well, and made a good tackle on special teams. Jeremy Ross, on the other hand, needs to learn when to stay in the end zone on kick returns.