If I had to choose between Aaron Rodgers being a spokesman or just being a quarterback, I'd quickly keep him playing football. I don't necessarily want him taking up every cause or promoting every product and to his credit, he doesn't, but on Monday he took time to speak to UW-Madison students about an issue he's apparently passionate.
According to the Wisconsin State Journal:
Rodgers "
was joined by actress Emmanuelle Chriqui, Congolese teammate Andy Mulumba, and others to raise awareness and to pressure technology companies not to buy minerals used in computers and other consumer electronics from Congo."

Thousands of students turned out for the event, primarily sponsored by the Conflict-Free Campus Initiative.

Rodgers joined students in the UW tradition "Jump Around," quickly diffused students' speculation about a relationship with Chriqui and took several digs at Detroit Lions center Dominic Raiola, who is accused of verbally abusing members of the UW Marching Band before Sunday's Packers-Lions game at Lambeau Field. But Rodgers was quick to point out that he didn't come to Madison on Monday night to talk football.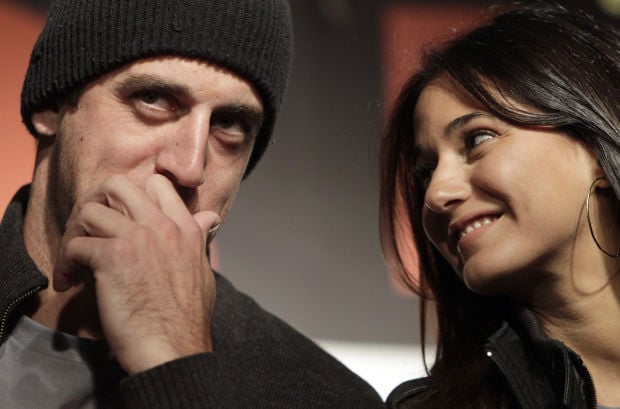 Photo Credit: MP King, Wisconsin State Journal
After learning about the conflict in Congo from Chriqui, Rodgers decided to get involved in the effort to pressure consumer electronics manufacturers from using minerals from the warring nation.

"That was kind of my 'enough' moment. A device that I take everywhere with me. It's my lifeline to my friends, to my Candy Crush, to my Twitter account during the offseason. This is the lifeblood of these warlords who are doing some incredible atrocities half a world away," he said, asking students to help make UW-Madison the first conflict-free school in the Big Ten conference.
Sounds sort of Blood Diamond-esque, and it's not necessarily a cause that many people are going to disagree with. He's not a politician and doesn't have to be, but it's good to see Rodgers using his notoriety to bring attention to a cause he believes in.